Contrary to what you might think, this soup, in particular, is a staple of summer and not the bitter cold of winter. Take a second to let that sink in. I still haven't convinced my husband of it, but it's true! We've been so engrained to think soup = cold, but in Romania, this Transylvanian Green Bean Soup is often made during the warm months. No, it's not cold like gazpacho; it's served warm, with a dollop of  sour cream (or my alternative: Greek yogurt). You'll love how the cream/yogurt plays off of the beans, turning a broth-based soup into creamy goodness (with less calories!).
This is the type of soup you can set and forget. I've made it early in the day, simmering until dinnertime. Of course, you can eat it right away, too, but the longer it's cooking, the more the flavors marry together. I love when flavors marry!
↓ Recipe below ↓
—But first, some pretty pictures—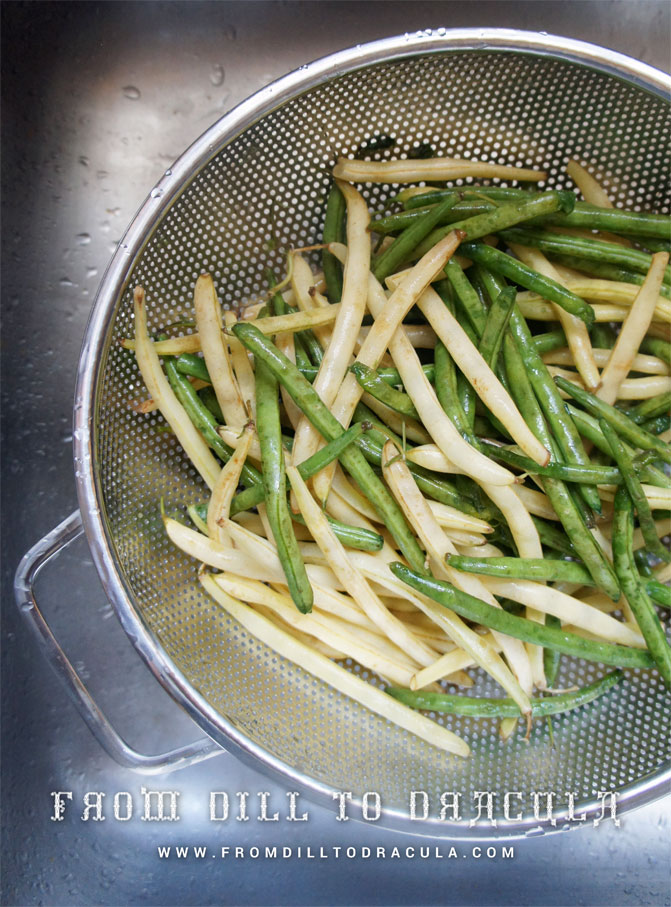 I like using a pound of the yellow and a pound of the green wax beans. The colors are vibrant, and it's nice to mix it up every once in a while.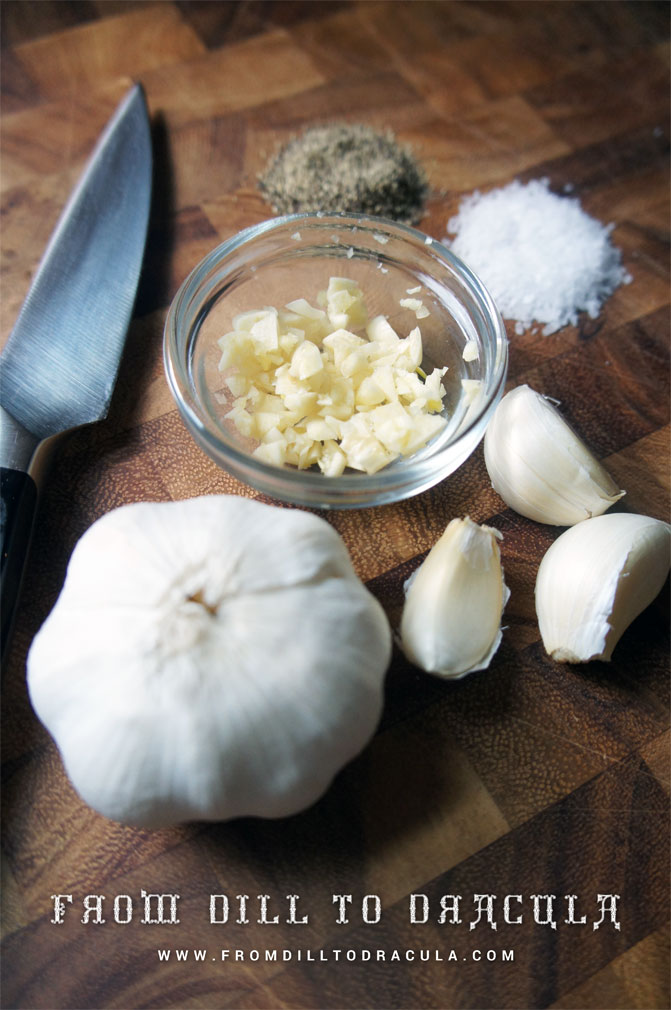 Romanian's love garlic.
It's my belief that the mythology of vampire's hating garlic came about because of how prevalent it was in the country, and Romanian's needed a natural defense against the beasts.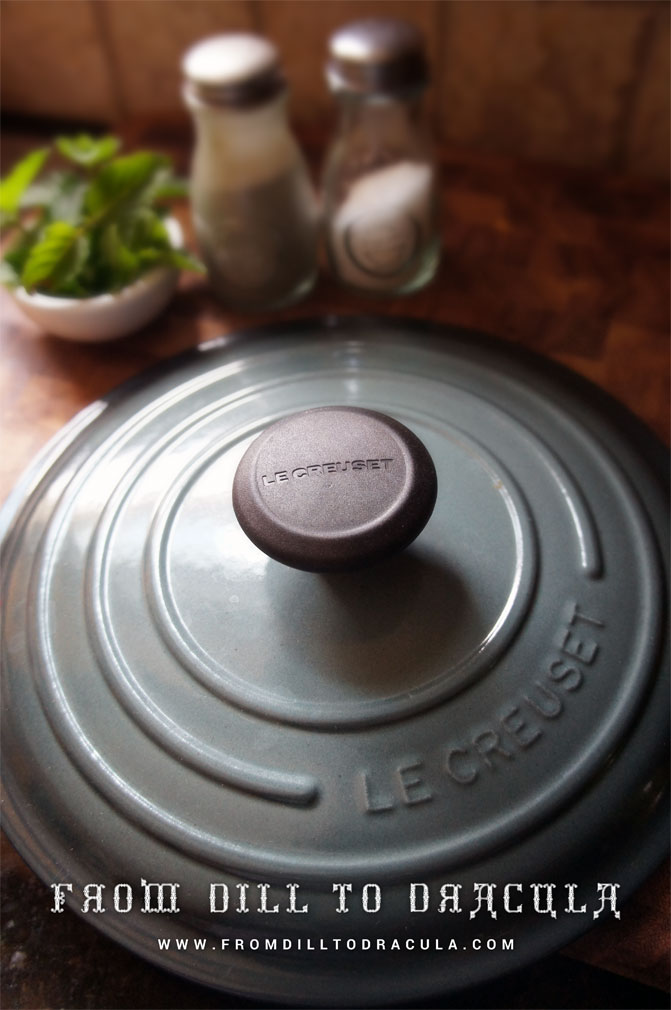 The Le Creuset is a Godsend, and well worth the investment! We use it for everything, from soup to sarmale (more on these guys, later 😉 )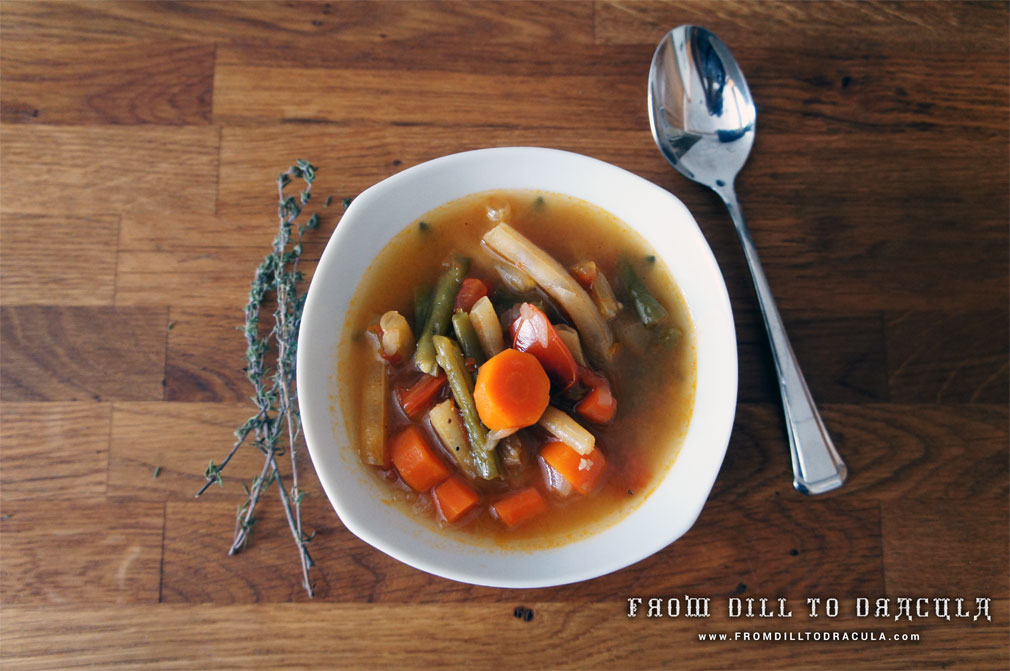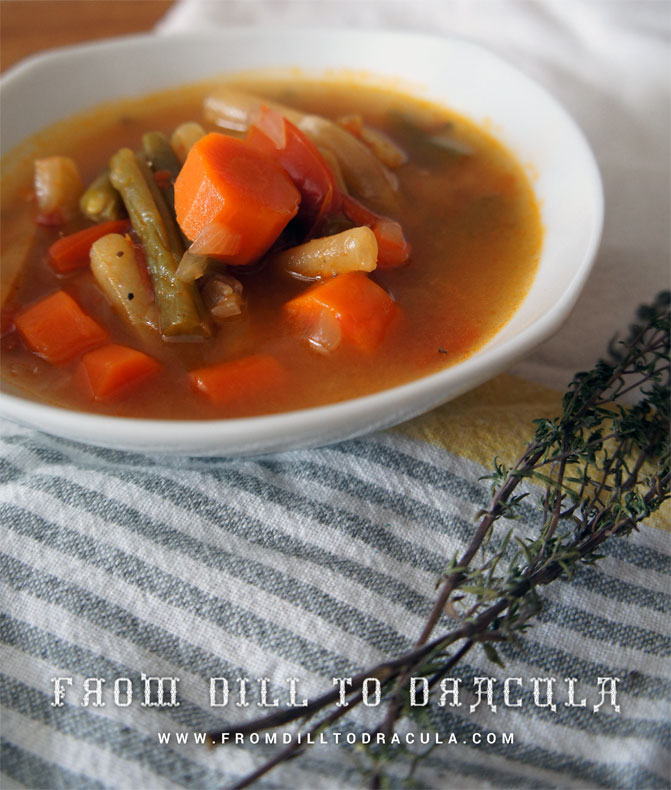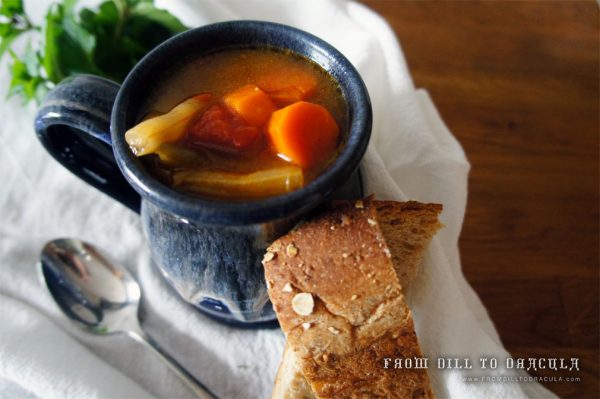 | | |
| --- | --- |
| | |
Start by rinsing off your wax beans, snap off the tails, and then break them into bite-sized pieces.

Mince your garlic and onions. Add butter or oil to a pan and saute your onions and minced garlic until they're tender, about 5 to 7 minutes.

I like to use my Le Creuset Dutch Oven for this step since I can continue using it while making the soup.

While sauteeing the garlic and onions, chop your veggies: onions, carrots, celery, and any other veggies you might want to add, or have on hand. That's the beauty of soup—you can't go wrong adding more veggies!

Chop your tomatoes separately, and set aside for later.

Add your chopped veggies to the pan, except for the tomatoes. We don't want them to disappear into nothingness (as tomatoes tend to do), so we're saving them for a little bit later.

Sautee for another 5 to 7 minutes.

Add your chicken stock and wax beans to the pan, then salt and pepper to taste. Bring to a boil, stirring occasionally.

Once the soup starts to boil, throw in your tomatoes and parsley (optional), and reduce heat.

While the soup is stewing, pull out another smaller frying pan and begin to make a roux by adding a ladle-full of water or broth, taken directly from the soup, and slowly whisking in 3 tbsp flour. Once the flour and liquid are combined, and has a nice, light brown hue to it, add the roux to the soup, until mixed in.

Serve and se bucura/enjoy!

You can top it off with a dollop of the traditional sour cream, or a healthier alternative: Greek yogurt. As with any Romanian soups, having a slice of bread to sop up the remaining liquid is a must!