Header via Alexandru Hariga
Note: At the scheduling of this post, Saturday, February 4, 2017, the Romanian government has decided to repeal the ordinance which caused massive protests through the streets. If you're curious about what the ordinance was, and how Romanians responded, please continue reading.
---
---
Since I usually do Romanian to English translations, here's the English to Romanian translation of this blog post's title:
Ce se întâmplă în România?
(Pronounced ch-eh ss-eh in-tomb-pluh un rome-ah-knee-uh)
Whew. That's a mouthful.
Anyway…
If you follow the From Dill to Dracula Twitter feed (@DillToDracula) you've been seeing quite a few of my RTs regarding mass protests currently going on in Romania's big cities—Bucharest, Timisoara, Cluj, etc… It's not unlike all the protests we've been having across the pond, here in the good ol' US of A. (Though, now-a-days, how good ol' really are we?) Romanians have taken to the streets in defense of their hard-earned democracy, and I'd like to share with you what I've learned of the situation, drawing comparisons with our current political climate. My, what a small world it is. Unfortunately, this isn't one of the positive similarities :/
They're claiming these protests are the largest since the fall of communism of 1989. If you've been following the blog, and my venture with my book One Thousand Stars That Bind, I have a special interest in that period of time, and to see it repeated—in my lifetime, no less—is both heartbreaking and fascinating. I stand with my fellow Romanians. #resist
↓ Let's see what's happening ↓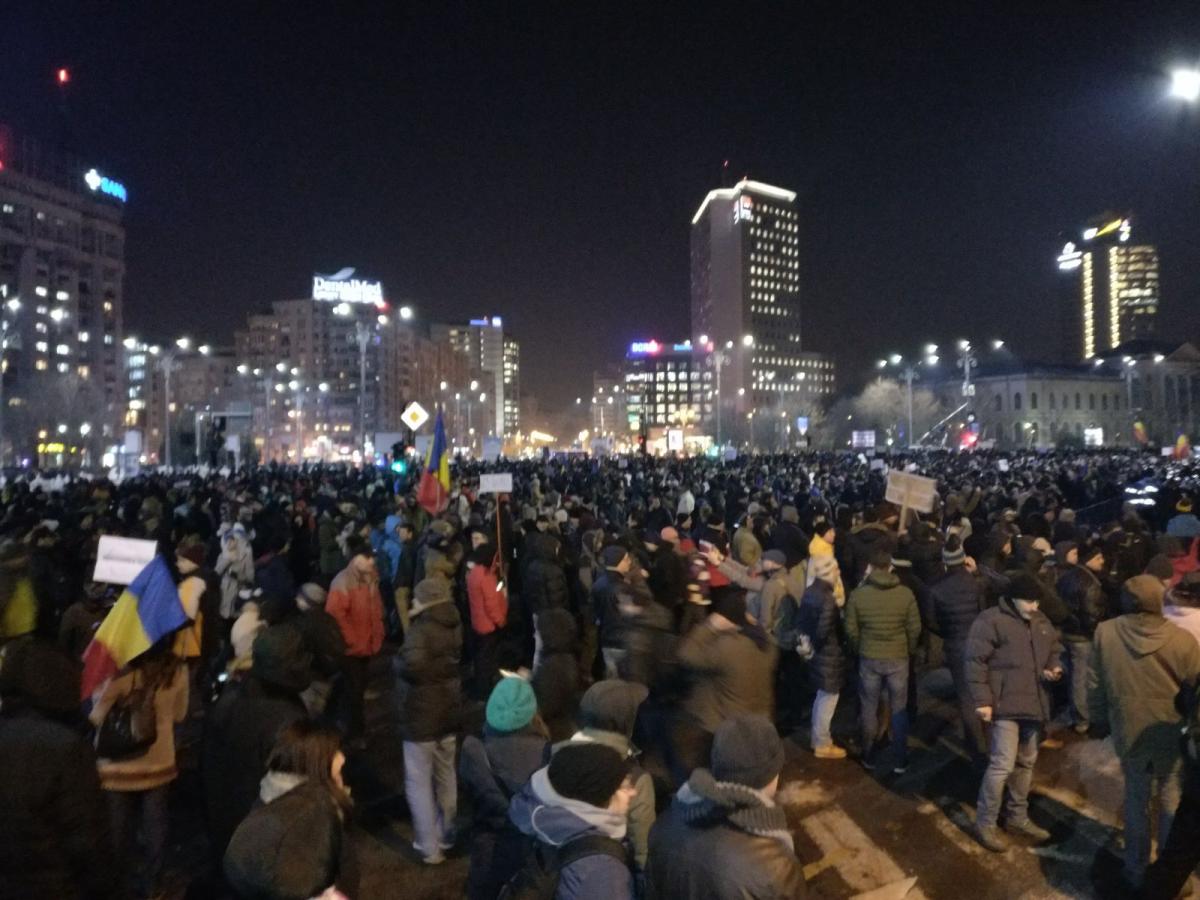 Image via @OwlsPolitics
For starters, here are a handful (read: only a very, very, VERY small handful, as there are many circulating social media) of the tweets I've RT'd regarding the situation in Romania: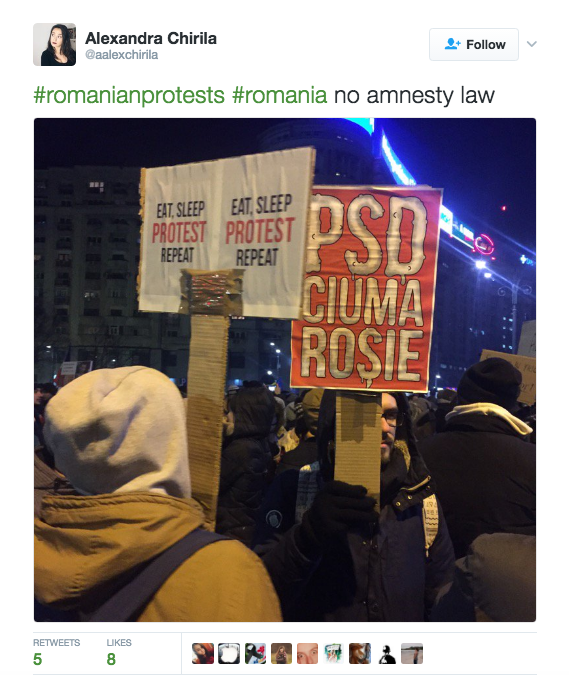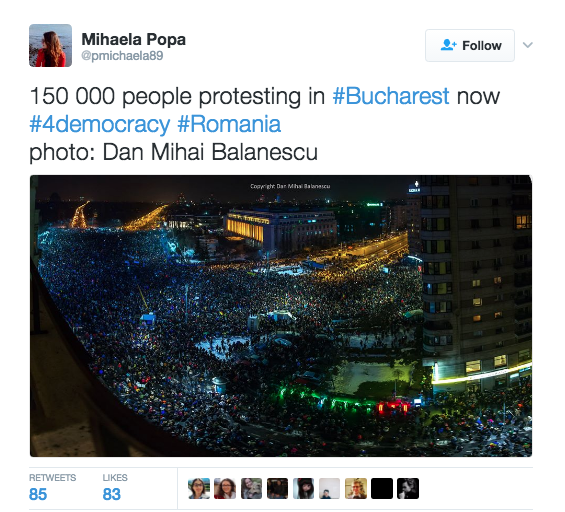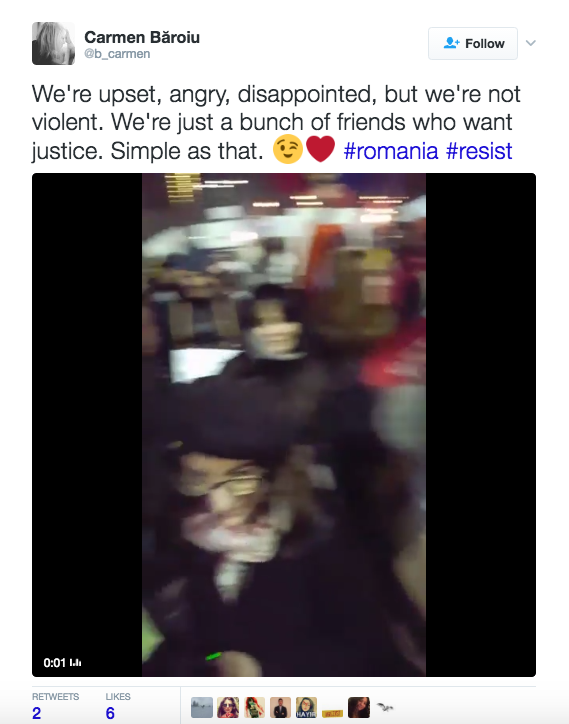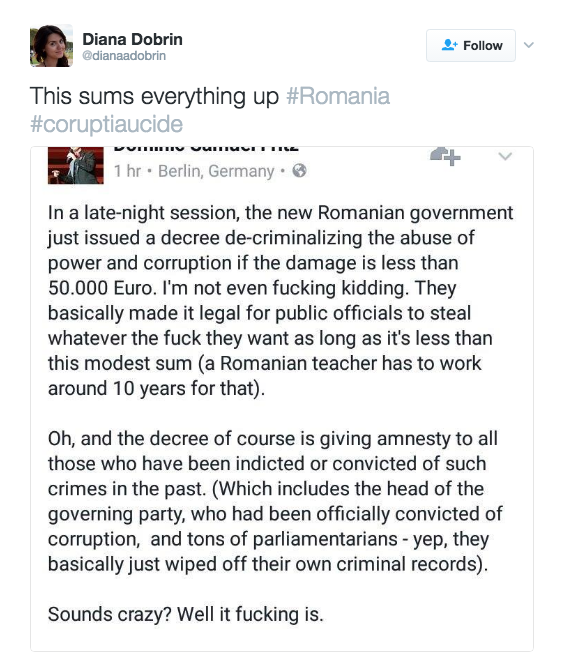 Want more? Just follow the #RomanianProtests or #Romania hashtag on Twitter.
So, let's dig into the details of what the government is doing, and why the people are unhappy… That last tweet sums it up nicely. Tuesday, January 31, 2017, the government of Romania "decriminalized criminal punishment for charges of abuse of power, conflict of interest and work negligence."
What?
Yeah, you read that right.
Government officials are arguing it's to keep prisons from overcrowding. Okay. That may have been a valid reason, if not for the kicker: You cannot be incarcerated for offenses less than $48,000. 
Why would this cause hundreds of thousands of people to flood the streets in protest? Well (and rightly so) they believe this allows politicians to evade justice, and maintain the corruption that's currently within the Romanian government. You want another kicker that supports this belief? Well, here's one: This would immediately help the PSD (or Social Democratic Party) leader Liviu Dragnea, who "faces charges of defrauding the state of €24.000 (or approx. $25,885). 
Guess who pushed this ruling through. I'll give you one guess. It probably won't take you very long.
That's right. The PSD.
Convenient, no? Of course this happened after the PSD returned to power in December (another heated issue in Romania, where the first female Muslim candidate was blocked by the then-President).
It's sad to see that governments might be innately corrupt, or bend in that direction—whether it be here in our own country, or overseas. And so I want to end with this tweet, and the beautiful picture beneath it: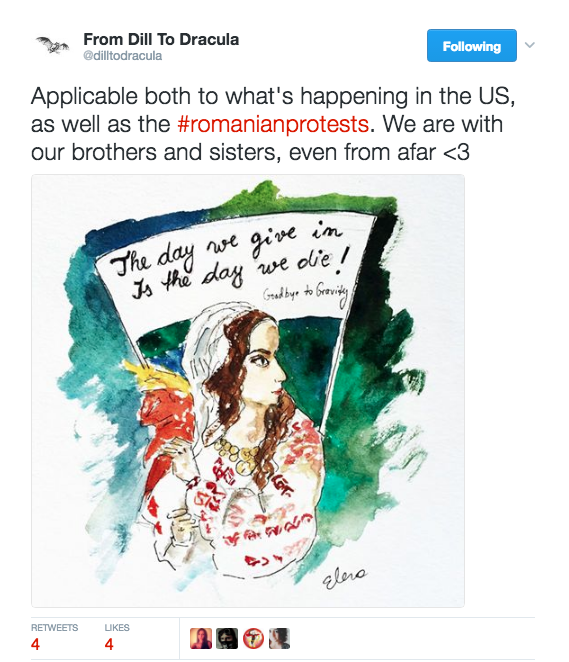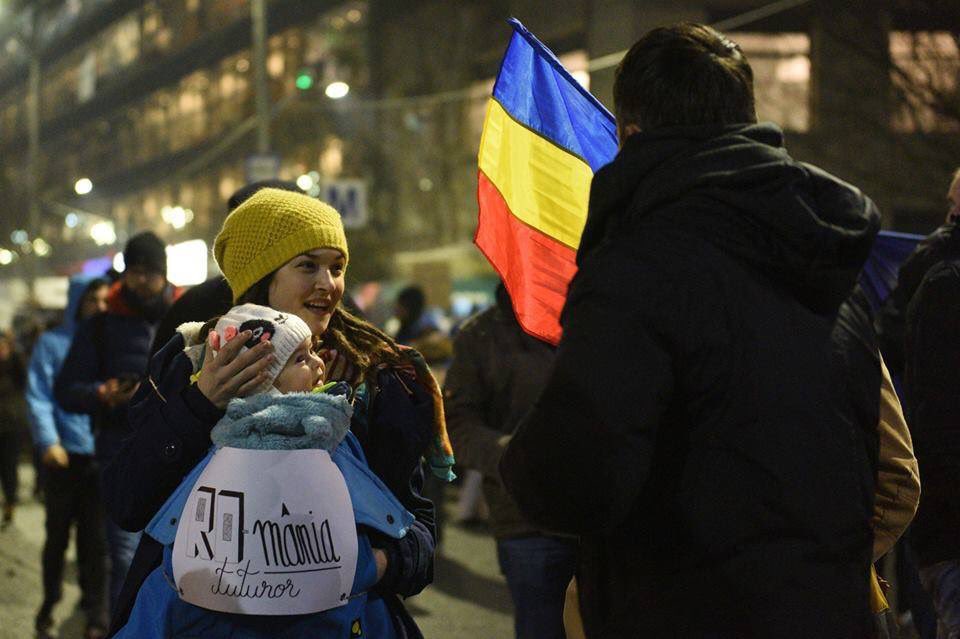 Image via @divergentjedi
What do you think of the similarities between what's happening in Romania and here in the US?
Do you agree? Disagree?
Please share in the comments below.
↓↓
Would you like even more reading material?
Check out…