Romanians love dips and spreads. I've already featured Salata de Vinete, an eggplant salad spread, and today I'm excited to bring to you another smokey veggie goodness recipe: Zacusca (pronounced zah-coo-sk-ah). And… surprise! Even though the star of this recipe is the red pepper, there's eggplant in this one, too!
Fall is the perfect time to make this recipe. With the Autumn harvest, there's an abundance of fresh vegetables with robust flavors just waiting to be made into something anew. Zacusca is smokey, salty, a little sweet, a little acidic, and fits perfectly atop a slice of crusty baguette. This is also a great recipe to couple with my Coca Bread, or Romanian Flatbread. It's quick and easy to whip up and gives you a nice carrier to get the zacusca to your mouth.
Since it does take a while to complete this recipe, I wouldn't fault you for passing it up. Thankfully, zacusca has become more mainstream, with some specialty grocery stores stocking it on their shelves. Here are some options I found from Amazon: here
, here
, and here
.
↓ Recipe below ↓
—But first, some pretty pictures—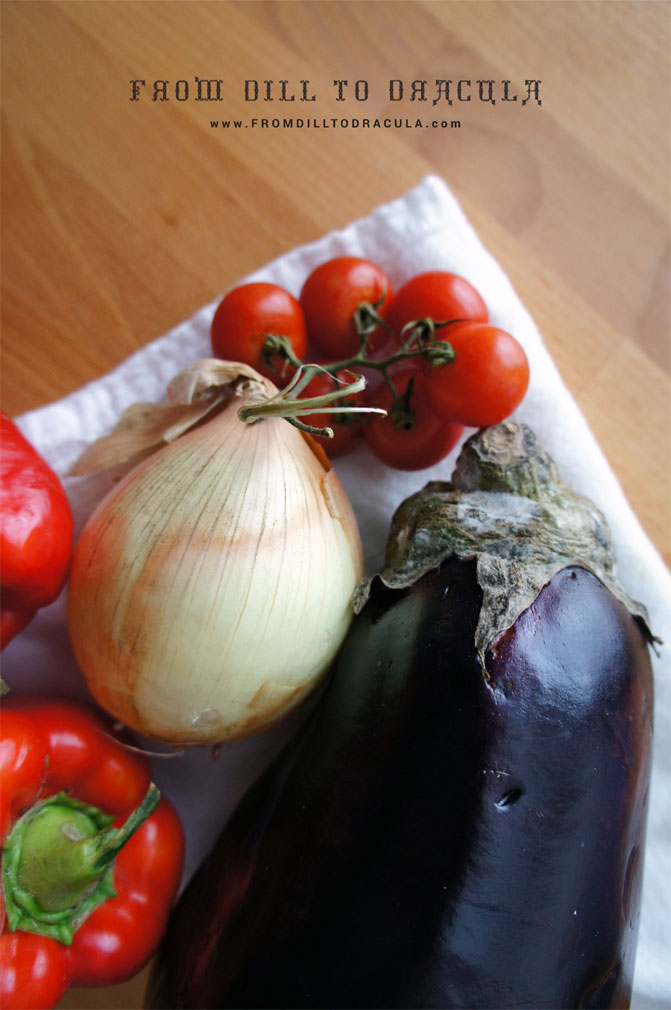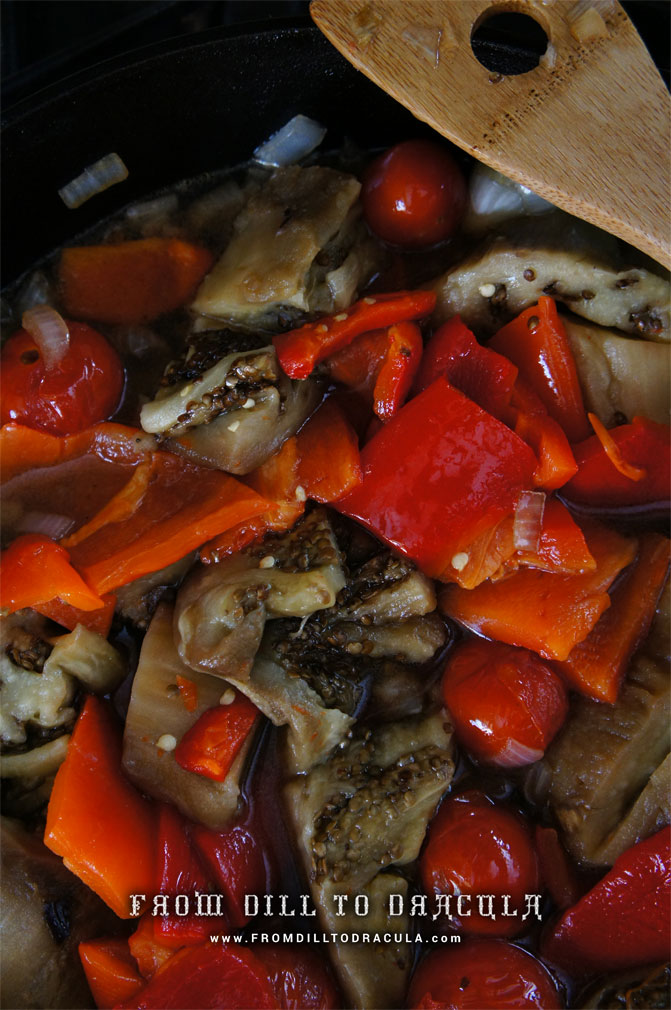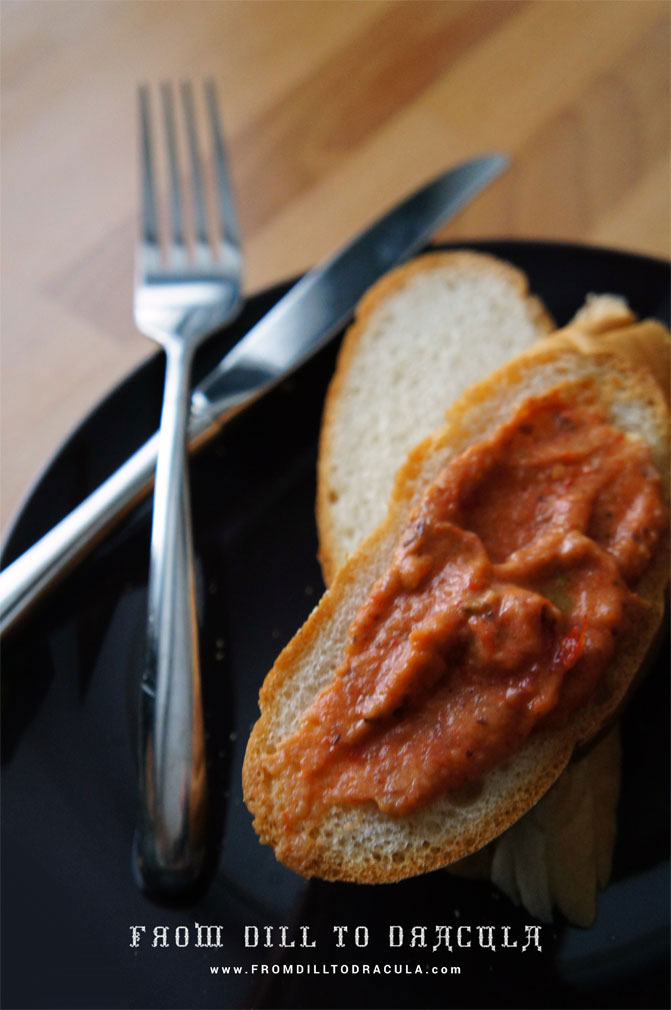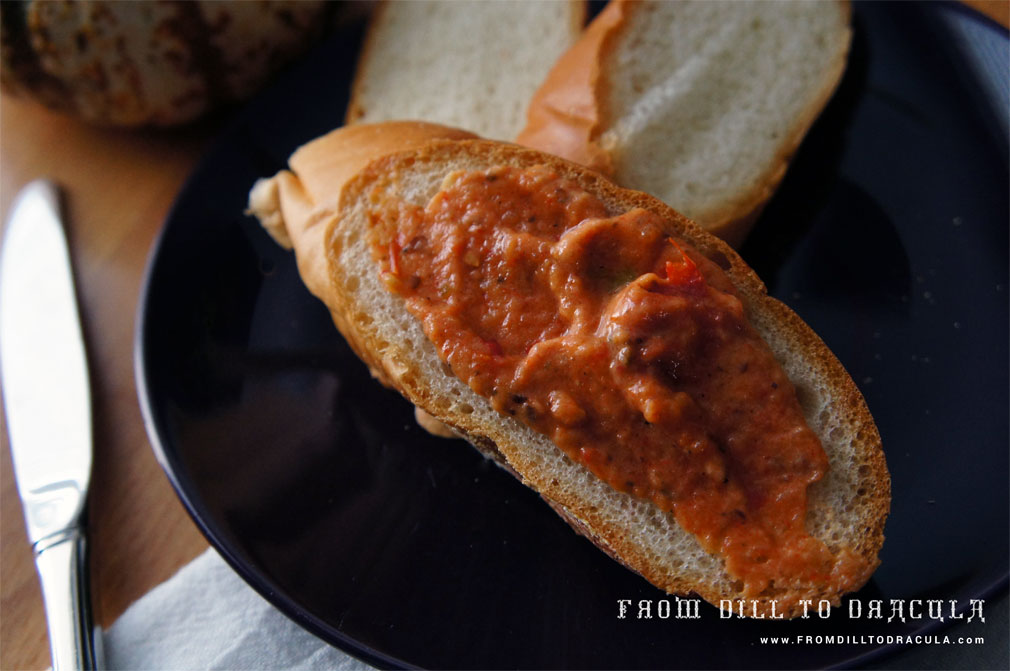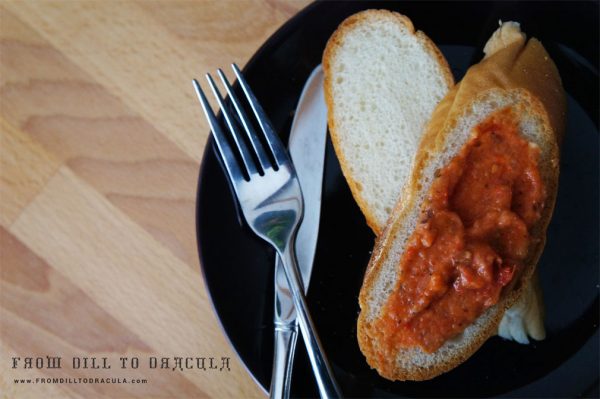 Passive Time

30-60

minutes
Passive Time

30-60

minutes
Grill the eggplant until it's charred on the outside and soft on the inside, and the red peppers until the skin is charred and blistered.

Alternatively, if it's too cold to grill (or your tank of gas is empty) you can bake these on a cooking sheet in the over at 400°F for about 20 to 30 minutes. Turn them so they can cook evenly, and make sure they're soft before removing from oven.

Note: Make sure you poke the eggplant and peppers generously with a fork before putting them in the oven.

Once the eggplant and peppers are either grilled or oven baked, allow to cool. Remove the skin of both (this part can become a little tricky–you're allowed to cry out to the heavens in frustration) from the eggplant and place it with the peppers into a colander. Sprinkle generously with sea salt, cover with a few layers of paper towel, and set a heavier dish or bowl on top to drain as much liquid as you can from the veggies. This might take up to an hour to complete.

Note: With eggplant never use metal tools as it'll oxidize the vegetable quicker.

While draining the eggplant and red pepper, dice the onion and saute in a deep pan with the vegetable oil (NOT olive oil) until they become translucent. Add cherry tomatoes here to allow them to "burst" in the pan. If using regular diced tomatoes, add in the next step.

Coarsely chop the eggplant and red pepper then add to the pan with your bay leaf, honey, salt, peppercorn and water.

Cook on low and uncovered for about 1 ½ hours, stirring occasionally.

Adjust the taste with salt and honey if necessary.

Once satisfied with the flavors, remove and discard the bay leaf, then transfer contents into a food processor or blender. Pulse until pureed with chunks. It shouldn't be super smooth.

Store in the fridge in an airtight container. Canning jars come in handy, though tupperware should suffice, too.